Integrating a subtle mix of finishes in the external building palette can make a building much more interesting. Here we look at how we have used different materials such as timber and copper on some of our building facades and why we used them.
The house we recently completed in Woollahra is nestled among trees and rock outcrops that form part of a large park. We used a simple palette of light grey concrete bricks, black painted horizontal timber cladding, black metal louvres and fascias. The undulating façade is made more interesting with the use of the cladding to express the different setbacks and as the house is literally set in the trees, timber cladding was an obvious choice.
Horizontal painted timber cladding at our Woollahra House. Photo Felix Forest
Timber cladding – side view at our Woollahra House. Photo Felix Forest
Timber cladding can be laid vertically, horizontally or on any type of angle and by doing so will accentuate either the building's breadth or height. It can also be painted, stained or left untreated. Painting is low maintenance and will hold its finish for about 3 to 5 years – after which a fresh coat will need to be applied.
Staining timber allows you to keep the look of the material but with a protective (generally oil) coating that can come in various shades. Depending on the orientation of the building, staining will need to be maintained at least once a year to keep the finish as new. At our Tamarama House pictured below, vertical timber battens on the house and garage were stained.
The third option for timber cladding is to leave it untreated whereby it is left to weather naturally to an attractive silver patina.
Timber cladding can give a relaxed feel and also a nod to our old colonial architecture. It can generally be a cost saving (vs double brick construction) and you can also have a bit of fun with it in terms of incorporated the timber cladding into some of the moving elements like sliding shutters for example.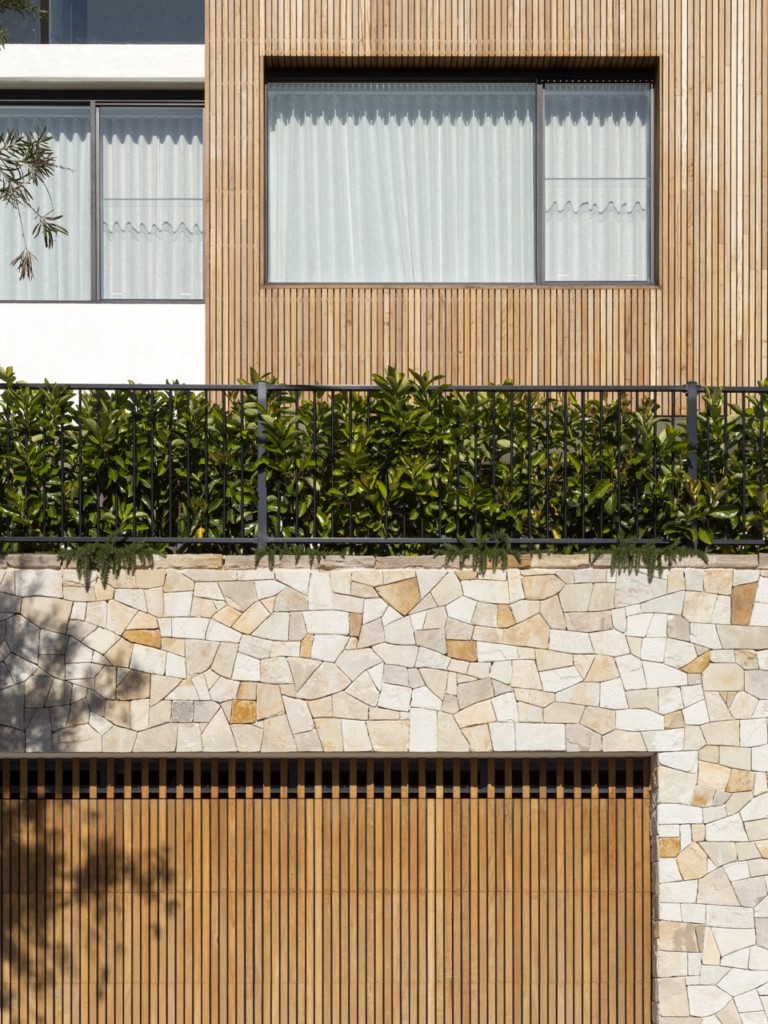 Vertical stained timber battens and stone cladding at our Tamarama House. Photo Justin Alexander
The second option for cladding is metal – either copper, zinc or even colourbond. At our Castlecrag House we used a mix of concrete bricks (we love these) stained tasmanian oak clad eaves and vertical copper panelling and fascias. Over time the patina of the copper will dull and blends beautifully with the other materials.
Metal claddings are virtually maintenance free and give a different feel to a building – slightly more formal yet delicate depending on the design.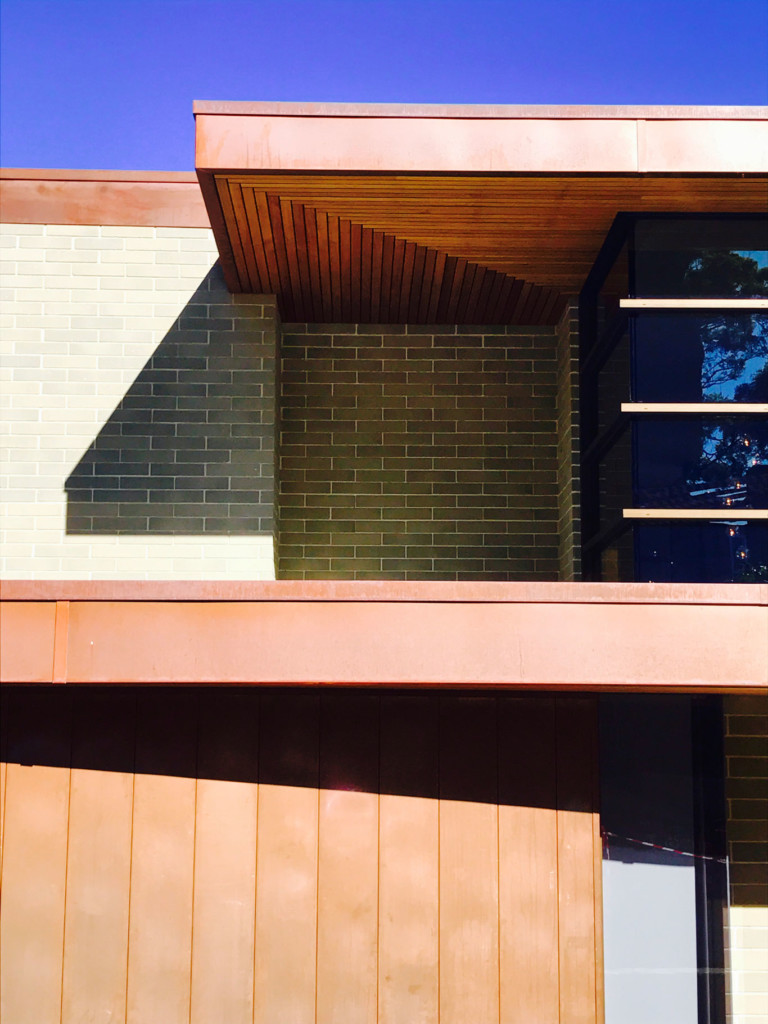 Vertical copper panelling  at our Castlecrag House. Photo Porebski Architects
The external finishes of a building are an important decision and should be carefully considered at the initial design stage of a building. Not only does the owner need to love them but they should also fit in with the surrounding landscape and built environment. Timber and metal are not the only finishes that you can use as cladding materials eg: we used a stone cladding at our Tamarama House
One of the best stages of the design process is making these decisions with our clients as they also set the tone for the whole house – exterior and interior.