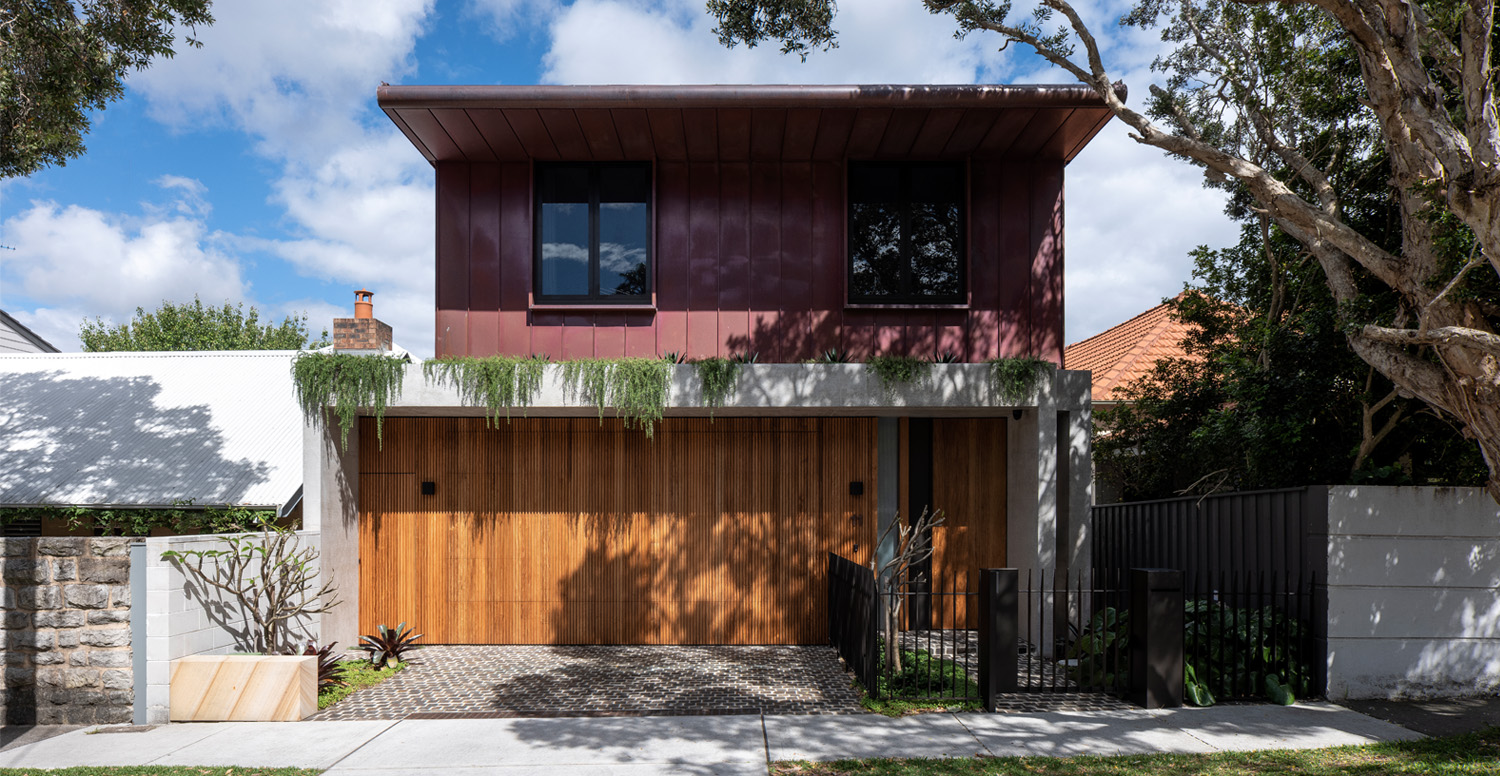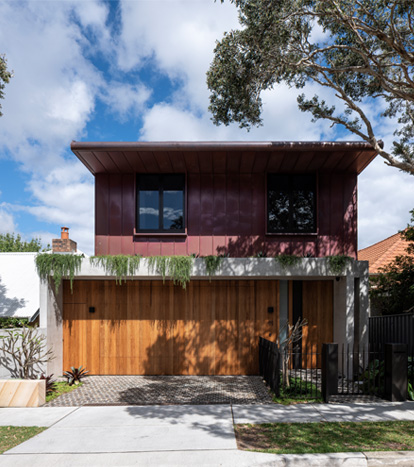 Queens Park House
Originally an existing single storey dwelling, this house is a family home on a tight suburban block on the hills of Queens Park.
By using the limitations of the site – notably it's east west axis, northern light is brought into the living areas by the L-shaped plan at the rear, while an off-form concrete skylight feature and double storey window bring light to the centre of the house and connect the kitchen, dining and living areas.
Taking advantage of a slight fall from front to rear the living areas are a metre below street level allowing the volume to increase – entering the house through a sequence of spaces that start low and open up to the stairwell and living areas.
Accomodating the recessed area at the rear is a swimming pool that doubles as a water feature visible from the entrance and of the living areas. A 3.7m glass wall between the pool and living areas allow the indoor outdoor connection to be blurred.
Focusing on the quality of each space led to natural lighting flooding the interiors and a greater connection between in and outdoors.
Builder Mirtillo Constructions
Structurals James Taylor & Associates
Hydraulics
Glenn Haig & Partners
Certifier
Aramini Leedham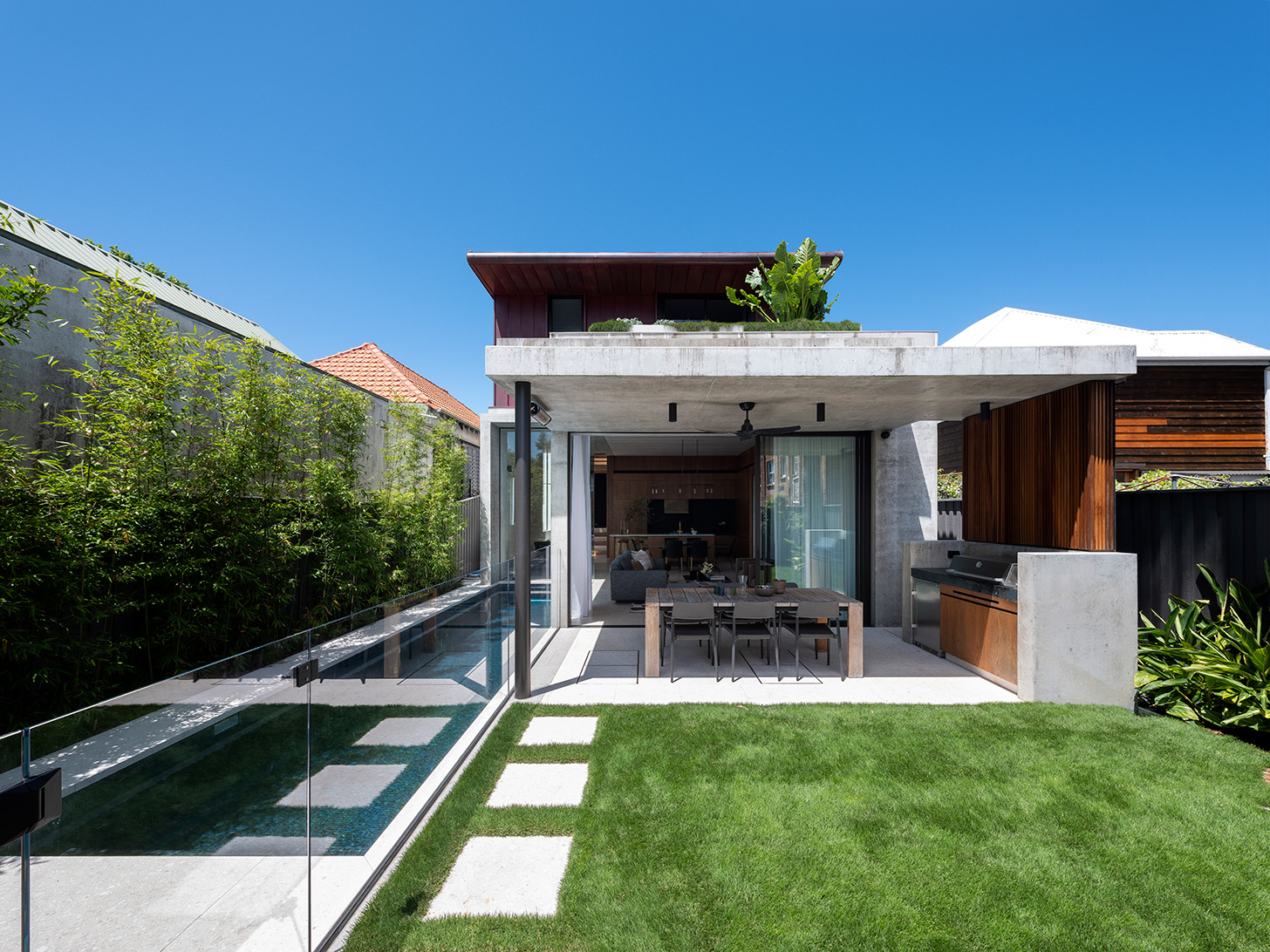 The front facade features copper, timber battens and off-form concrete. These feature throughout the house but copper is replaced with brass internally. Other materials include face block work and pink terrazzo that flows throughout the ground floor area and external spaces.
Off form concrete also features as ceilings and beams leading to the cantilevered roof creating the covered terrace to the rear while timber battens are used as feature walls and ceilings.
The building's solid concrete block walls and terrazzo floors provide for thermal mass allowing the house to be cool in summer and warm in winter and is helped by the central northern skylights and low e-glazing.
The ground floor includes a study nook off the entry.
The first floor accommodates three bedrooms and media room connected by a walkway open to the stairwell. The concrete skylight and pendant light in the stairwell become a striking feature of the house.
The interiors of the house were selected by the owner and incorporated into the architecture.
Queens Park house embraces the site constraints to create a magnificently light filled house that sits comfortably within its suburban context.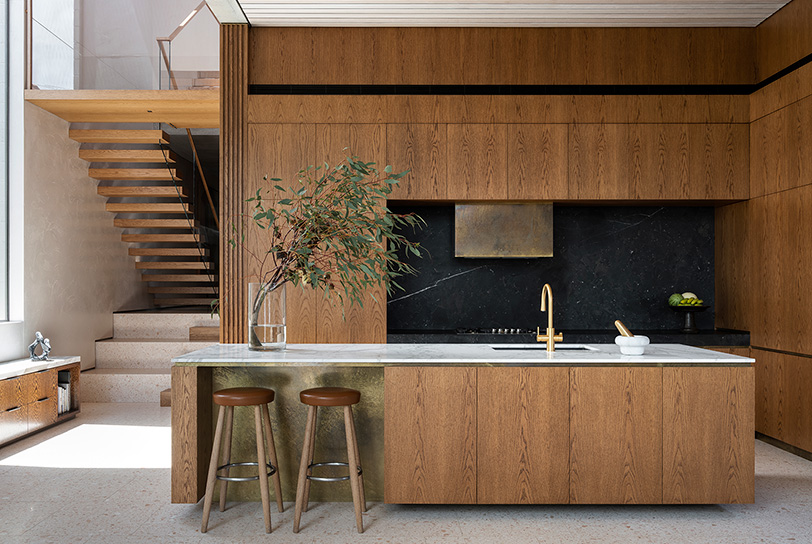 The house exhibits a balance of natural raw materials and sophisticated finishes.